ORGANIZATION OF PRIVATE EVENTS AT UN POSTO A MILANO
If you want to organize a private party or you are looking for a space for events in Milan, discover the offer for private events at un posto a Milano in Cascina Cuccagna.
Un posto a Milano, the bar and restaurant in Cascina Cuccagna, puts its unique areas at your disposal, with the evocative design and atmosphere of an old 18th century farmhouse, like the large room of the restaurant, the welcoming Fireplace room, the colourful gallery bar, the veranda looking on to the garden and the space in the south courtyard.
The menu of our catering is designed and prepared following the philosophy of the REAL FOOD MILE, and is based on fresh products, seasonal availability and on what the Italian land can offer.
Our areas are at your disposal for a casual aperitivo, a graduation celebration, a christening party, a lunch or a dinner for a wedding reception.
On the other hand, if you are thinking of the courtyards, the hub or the rooms on the first floor of the farmhouse, we will be delighted to answer your questions together with the events staff of Cascina Cuccagna.
HOW TO BOOK
Are you interested in organizing your private event at un posto a Milano in Cascina Cuccagna? To organize a private event or a party on our premises, for information and estimates, please send an email to info@unpostoamilano.it specifying in the email as many details as possible (date, time, number of people type of event) and special requirements (intolerances, allergies) as well as your telephone and email contacts.
Alternatively, you can call us on +39 02 5457785, from Monday to Sunday, from 10 am to 19 pm.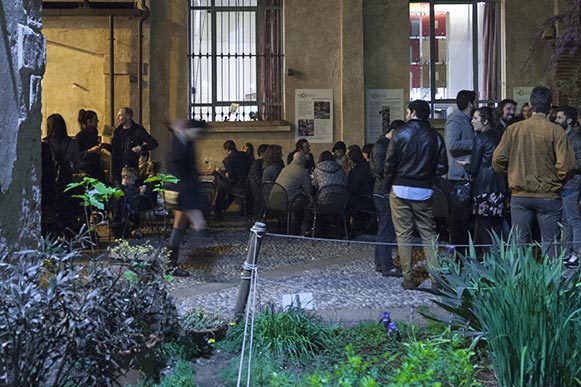 WE'LL BE CLOSED FROM MONDAY 23 DECEMBER AT 9 PM
UNTIL MONDAY 6 JANUARY INCLUDED.
WE'LL COME BACK ON TUESDAY 7 JANUARY.
DURING THE HOLIDAYS, YOU CAN CONTACT US BY EMAIL (INFO@UNPOSTOAMILANO.IT)
– AND WE'LL ANSWER YOU ON OUR RETURN!
– – –
Would you like to organise an event, book a table or a room, ask info on our bar, on the restaurant or on our guesthouse?
Contact us, we will answer as soon as possible.
Do you want to book for today's dinner? Call us at 02 5457785