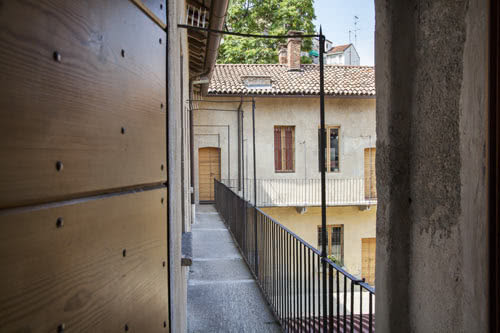 The Guest House In Milan that you were looking for

Are you looking for a room in Milan but you think that it's impossible to find a quiet place where you can completely relax and be close to the city centre? Book a room at the Guest House of un posto a Milano and you'll change your mind.
We have designed a place that is suitable and convenient for small and large groups (above all for those of 4 people) through the restoration of the rooms in the old farmhouse, obtaining 4 rooms (to host up to 13 people), 4 bathrooms and a common room. It is on the first floor of Cascina Cuccagna and has an independent entrance in the NORTH courtyard and each of the rooms is furnished with beds made of 100% natural materials by Pedano and the exclusive Pedano Sleeping System, which will guarantee a truly relaxing night sleep for you.
The un posto a Milano Guest House offers to its guests: ​​​​​
a common area

, with a fridge, a microwave oven and kettle.

the possibility of a 10% discount at the Delicatessen and bar from 10 a.m. to 1 a.m. from Tuesday to Sunday.
the common garden of Cascina Cuccagna and the courtyards, during the day free wi-fi

.
​​​​​​​If you are guests of the un posto a Milano Guest House you will have the chance to take part in the initiatives organized by Cascina Cuccagna during the year to get to know Milan from an alternative point of view: from the inside of a great project created for the participated sharing of a public space.
DORMIRE PEDANO
​​​​Thanks to the collaboration with Pedano, part of the furnishings of the rooms have been renewed. They are characterized by a minimalist and natural design, where you can sleep soundly. The collaboration with Pedano perfectly fits into the un posto a Milano's REAL FOOD MILE philosophy, because we look for raw materials that are closely linked to the area of origin of the products of Italian excellence.
THE ACCOMMODATION IN UN POSTO A MILANO
NORTH ACCOMMODATION
Your search for a double room in Milan is over: take a look to the North accommodation of the un posto a Milano Guest House. A beautiful room with 2 Pedano beds and en-suite private bathroom. A simple and welcoming solution for your city trip.
SOUTH ACCOMMODATION
The South accommodation is the perfect solution for those who are looking for a room in Milan: a spacious and bright room that can hold up to 4 Pedano beds and an en-suite private bathroom.
WEST ACCOMMODATION
The West accommodation of the un posto a Milano Guest House has 2 Pedano beds and a private separate bathroom. It is the cheapest solution between our rooms.
EAST ACCOMMODATION
Are you looking for a room in Milano? The East Accomodation is perfect for you! A large room which can hold up to 4 Pedano beds and a private separate bathroom accessible to disabled people.
useful information
Booking for children
> For children under 2 the stay in a baby's bed/cot (on request) is free of charge.
> For children from 2 to 10 the stay in an extra bed costs € 20.00.
> Children from age 11 will have to pay as adults.
Rates
All our rates include exclusively the stay in a room with private bathroom.
Check-in and check-out 
You can check in from 2 p.m. to 6 p.m. by calling +39 373 8955768.
For all arrivals after 6 p.m. you can request a late check-in by paying a supplement of € 25.00.
For the purposes of quality of the service, you must notify us in advance of the definite time of arrival. The Guest House hasn't a 24/7 reception. The Guest House staff declines all responsibilities in the absence of a specific request for a late check-in or definite time. 
You must leave the room by 11 a.m. of the day of departure. 
– Animals are not allowed.
– Paying car park: via Muratori 32 – for information 02.5460061
CONTACT US
Would you like to book a room or to get more information on un posto a Milano's activities and services?
Contact us, we will answer as soon as possible.