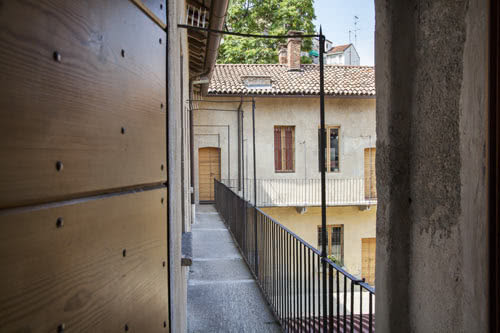 The Guest House Inn of un posto a Milano


The Guest House Inn of un posto a Milano is a place designed for every kind of traveller and offers different solutions suitable for small or large groups. Located on the first floor of Cascina Cuccagna has an independent entrance, it has four rooms each one furnished with Pedano beds and the Pedano Spleeping System. ​​​​​​
​​

Benefits and services for the guests: ​​​​​​​
• a common lounge, with a kitchenette, a fridge, a micro-wave oven and a kettle.
• free wi-fi connection.
• 10% discount on the delicatessen and the bar (open from 10 am – 1am / Tuesday – Sunday).
• during the daytime, the garden of Cascina Cuccagna, and its the patio.
​​​​​​​
The guest of un posto a Milano Guest House Inn can take part in the activities organized by Cascina Cuccagna during the year.
​​​​​​​
The updated calendar can be consulted at the website www.cuccagna.org.
​​​​​​
Overnight stay for kids and extra beds:
​​​​
> Overnight for babies under 2 years old is free of charge. Baby cot is available upon request.
> For children from 2 to 10 years old overnight with extra beds costs € 20,00 per children.
> Eventual extra-beds for children (from 11 y.o.) and adults costs € 50,00 per nights / per bed.
​​​​​
To check the price list and to proceed with your booking, please click here
Sleep with Pedano​​​​​​
Thanks to the parnership with Pedano the rooms have been completely renovated, becoming confortable accommodations with an essential and natural design, where everyone can sleep peacefully. The partnership with Pedano is part of the entrepreneurial approach of un posto a Milano, which can be summarized in the slogan Chilometro Vero. This philosophy searches for raw materials with a deep bond to their local areas and excellent Italian product. ​
NORTH ROOM
Do you want to rent a room in Milan? The North Room of un posto a Milano Guest House Inn is a perfect solution!
A beautiful double room with a double Pedano bed and an en-suite bathroom.
WEST ROOM
The West Room is the perfect solution for your stay in Milano. The West Room is a double room with private external bathroom.
EAST ROOM
Rent a room in Milano at un posto a Milano Guest House Inn! The East Room is a big double room (max. 4 people) with Pedano beds, the possibility of extra-beds and a private external bathroom.

CONTACT US
Would you like to book a room or to get more information on un posto a Milano's activities and services?
Contact us, we will answer as soon as possible.