UN POSTO A MILANO AT CASCINA CUCCAGNA
One of the most important features about us is the location we have the opportunity to rely on. Located in the heart of the city, un posto a Milano echoes the quiet, spacious and traditional rural farmsteads laying all around Milan. Also hosted by the 1700's traditional farmstead Cascina Cuccagna Milan, yet renovated, modern and comfortable, un posto a Milano catches an astonished visitor who would never imagine to stumble upon such an unforeseen place. Thanks to a project carried by a group of Milan associations, Cuccagna farmhouse is now a multifunctional center dedicated to food, culture, the environment and social activities.
Also, un posto a Milano is a place where to enjoy a great meal. Mission of the restaurant is to guarantee not only a high quality, but above all a raw material traceability safeguarded by a short supply chain, favoring area's seasonal supplies.
Un posto a Milano seamlessly combines a restaurant with an urban quiet spot open from 10am till 1am, creating the perfect setting for mingling with Milan residents, enjoying a good book or tasting a good breakfast while reading the news.
Un posto a Milano has customized menus, furniture, books and games to allow children to live this experience entirely from their point of view.
Opened on the 1st of May 2012, un posto a Milano's guest house inn hosts 16 beds in both small and big rooms, facing directly the rural courtyard and the garden, open 24/7.
Un posto a Milano is a kitchen, a bar and a guest house inn, and is a project by esterni, a cultural association of Milan who since 1995 has been managing public spaces and has currently its offices in the rooms on the first floor of Cascina Cuccagna.
If you want to join our group who contributes every day to keeping these spaces alive and dynamic, write an email to amministrazione@unpostoamilano.it.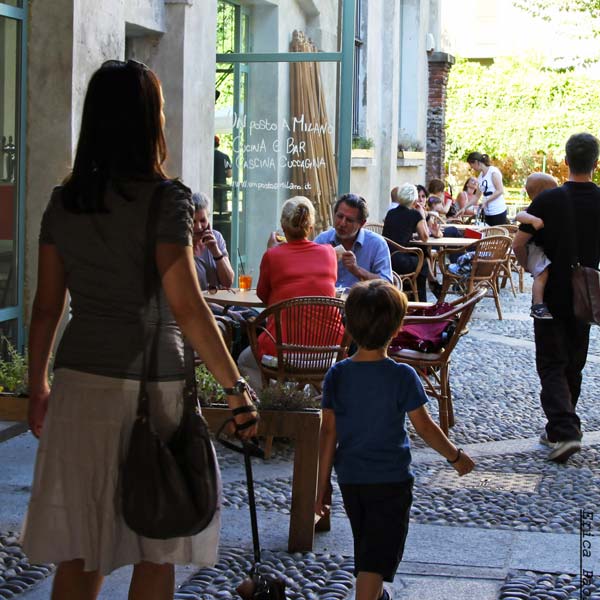 CONTACT US
Would you like to book a table, a room or just have more information?
Contact us, we will answer as soon as possible.