UN POSTO A MILANO AT CASCINA CUCCAGNA
Un posto a Milano is a project by esterni as part of the redevelopment of Cascina Cuccagna.
Created on 9th April 2012, it has become, over the years, a cultural bridge between the city and the country in daily lifestyles, in food choices and in sustainable production, with a view to retrieving and revitalizing the resources of the Italian land.
At Cascina Cuccagna – a multifunctional space for initiatives and social participation in the heart of the city – un posto a Milano is engaged in looking for products that are first of all local but not bound to physical distances, deeply linked to the areas of origin of products of Italian excellence and in finding ingredients with the lowest number of intermediaries.
Our philosophy can be summarized in the REAL FOOD MILE. We work with over 100 small farmers. Direct and daily dialogue with them guarantees for our clients the awareness of the product and the traceability of the ingredients.
Un posto a Milano, a project by esterni, represents through food the project that Cascina Cuccagna has been committed to carrying on in Milano since 2012: working in the areas of the environment and food, culture and the local area, bringing out cultural, artisanal and technological excellences, to build up an urban cultural identity based on cohesion and social integration.
Un posto a Milano is a restaurant, a bar with a delicatessen and also a small Guesthouse, again designed by esterni to experiment a new form of hospitality in the city: a hostel that looks on to a garden of the Cascina, with four rooms for a total of 13 people, with the furnishings renewed in May 2017, thanks to the collaboration with Pedano, an Italian brand that designs and makes sleeping systems in 100% natural materials.
You can follow un posto a Milano on Facebook, Instagram, and Twitter, tag us or write to us, share your photos with us, your thoughts and (why not?) your criticisms.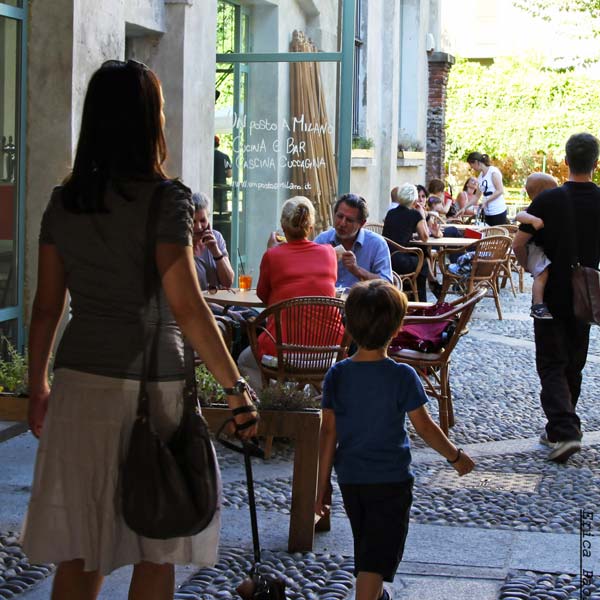 CONTACT US
Would you like to book a table, a room or just have more information?
Contact us, we will answer as soon as possible.